If there is no big trend established by the Budget, option sellers will make serious gains.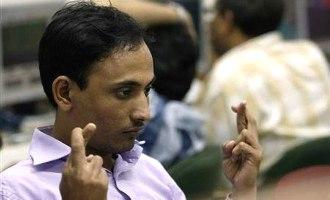 The market has gone nowhere.
There are great expectations riding on this Budget. But the political lead-up has not been smooth with the BJP unable to get key ordinances ratified.
The Nifty has bounced from support in the 8,450-8,500 zone and been unable to beat resistance at around 8,900-8,925.
The past seven sessions have seen a high of 8,913, and a low of 8,726.
But although historical volatility is low, implied volatility is high. Both traders and investors expect some sort of big trend to be established by the Budget.
Both foreign institutional investors and domestic institutions have been net buyers through February though with moderate commitments.
Operators and retail have been big sellers.
Large moves in equity and in currency are expected during March settlement.
The rupee has appreciated a lot against euro and yen and a little against the dollar.
The settlement itself is unlikely to see much change.
The index is at 8,767, with February 8,800c (18) and Feb 8,700p (10).
This implies traders don't see the market move outside the long strangle breakevens at roughly 8,670 and 8,830.
But if historical trends are followed, there will be a rally in the first two sessions of March, going into the Budget.
Budget 2015: Complete Coverage
If the Nifty beats resistance at 8,900-8,925, it will test the all time high at 8,996 and there's a good chance of new all time highs.
In fact, if the Budget is favourable, a rally till 9,500 or more is quite possible within the next five sessions.
On the other hand, if there is a correction due to a disappointing Budget, the market may slide below 8,450.
The next key support would be in the range of 8,200-8,250. Below that, there's another support at 7,950-8,000, where the 200 Day moving Average is trailing.
The Bank Nifty has bounced from a support of 18,225, to range trade between 18,750 and 19,000.
The PSU Banks have been a drag in the last month with minus 13 per cent return for the PSU bank index. Post-Budget trading will probably see alignment between the trend of the Nifty (flat in the last month) and the Bank Nifty (minus 4.7 per cent in the last 30 days).
The Nifty put-call ratio  is bearish across the one-month and three month timeframe.
But PCR is not a great indicator close to settlement.
The 3-month PCR is at 0.95 while the Feb PCR is at 0.9. Premiums asymmetry is visible in the March series with calls much more expensive.
The March Nifty Call chain has open interest (OI) peaking at 9,000c, with another bulge at 9,200c and ample OI till 9,500c.
The March Put OI is ample between 7,800p and 9,000p with two large peaks at 8,500p, and 8,000p.
The Nifty could move 200-plus points in any single session, and it could hit 8,300, or 9,300 within two or three sessions if a trend is established.
March options are expensive.
The index is at 8,767.
The March call chain is 8,800c (208), 8,900c (160), 9,000c (118), 9,100c (82). The Put chain is 8,700p (148), 8,600p (114), 8,500p (87) etc.
The first reasonably priced bullspread is the long 9,000c, short 9,100c, which costs 36 and is 130-odd points from money.
Bearspreads are more attractively price but even so, a long 8,600p, short 8,500p costs 27 at 170 points from money.
A long-short strangle set of long 8,600p, long 9,000c, short 8,500p, short 9,100c costs 64 and has a payoff of 36.
This is a very long way from money with an adverse risk: return ratio.
If there is no big trend established by the Budget, option sellers will make serious gains.
Budget 2015: Complete Coverage